RS270ENT-12 is a sunlight readable LCD display from RisingLCD, that is powered by a strong array of LED backlights achieving a luminance of 1200 nit.
This sunlight readable LCD display is perfectly suited to outdoor environments, or application where there are high ambient light conditions such as digital signage, marine, mobile.
27 inch 1200nits sunlight readable LCD Display Main Features:
LG original IPS LCD panel LM270WF7-SLA1
High resolution: 1920*1080
Sunlight readable Brightness 1200 nits
Built-in Auto Light sensor
Wide View angle
Support 24 hours, 365days non-stop display
IPS LCD Panel built in this sunlight readable LCD display
it does not produce image distortion and minimizes color shift when viewed from different angles, the IPS panel provides clear images and instantly optimizes screen color and brightness.

27 inch 1200 nits sunlight readable LCD display with 2K Full HD resolution.
The 2K HD picture quality ensures great colour and rich details in all possible broadcasting, HD screen delicate presentation of fresh visual experience.
Auto brightness control
Different external lighting condition requires different brightness leverls, an onboard light sensor that built-in LCD panel measures the ambient light in the area and automatically adjust the image light accordkingly, offer a best experience to the viewer, and also can save the engery cost, reduce the heat and extends the life of the screen.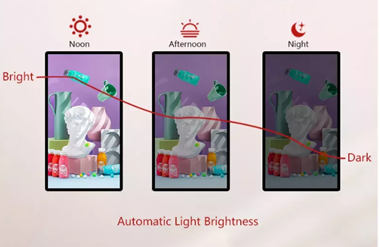 Sunlight readable LCD display
To get a clear image under sunlight, the LCD display brightness should be over 800 nits+, and with good contrast ideally 1000 nits above, because the brightness of the ambient daylight is around 6000nits, and the typical LCD display reflects about 14% of the ambient light, which is about 840 nits. Our high brightness LCD display are possible up to 1200 nits, that let you see a vivid world,see the real image even under the sunlight, it could give you a comfortable visual experience no matter what you are doing at any time.
RisingLCD is a high-tech enterprise specilized in the research and development of outdoor high brightness LCD modules, with many years experience in the design and manufacturing and sales, we can offer you 10.1inch to 100inch LCD panel with brightness of 500nits to 5000nits according to the customers requests. OEM/ODM are all welcomed!
Hot Tags: 27 inch 1200nits sunlight readable LCD Display, manufacturers, suppliers, factory, Customized