28" AUOP280IVN01.1 high brightness Stretched LCD Bar
General Description:
AUOP280IVN01.1 is a 28-inch hight brightness stretched LCD Bar which is a 1/3 cut of 31.5". with 1920(RGB)*360 69PPI resolution, and this screen is equipmented with a LED backlight.This screen characterizes wtih a brightness of 700 cd/m², a static contrast ratio of 4000:1 and an ability to work in the industrial temperature range (0~50°C).
AUOP280IVN01.1 adopts LVDS (2 ch, 8-bit) signal interface, 51 pins, which are connected by terminals, and the drive voltage is 12.0V (Typ.)
RisingLCD can adjust its brightness from 700 cd/m² to 2500 cd/m², so the images and contents can be fully readable in a situation of strong sunlight condition.
Industrial operating, temperature range. Thanks to such option, it may be successfully applied e.g subway bus station, supermarket mall as advertising screen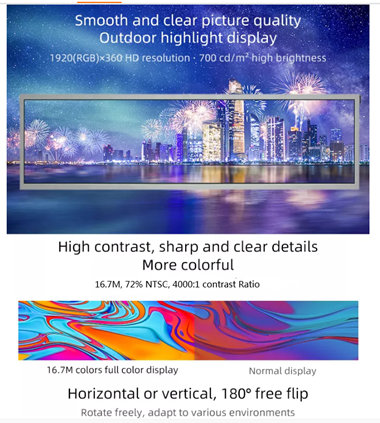 And AUOP280IVN01.1 is also using a maxtrix with IPS/MVA technology, display is readable from any angles, there is no gray scale inversion effect which is a nomal reature of popular TN matrixes.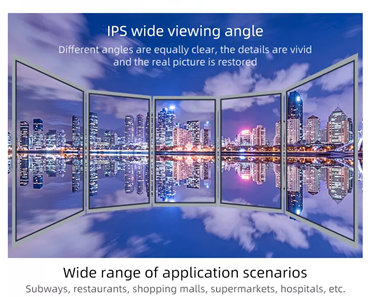 With original AUOP280IVN01.1 screen, We, RisingLCD China factory can customize it as your wanted!
OEM and ODM are welcomed!
RisingLCD Advantage:
OEM/ODM is acceptable!
Small MOQ is acceptable!
Competitive price!
Fast Delivery time!
RisingLCD is your best choice!
Ref no. P280HVN02.0, G280HVN01.0
Hot Tags: sunlight screen 2500 nits lcd panel, China, factory, cheap, price, customized, quotation, window facing LCD, 3000 cd/m² LCD Display, 43 Charging Pile LCD Advertising Player, 1000 cd/m²s LCD Screen, 82 LCD E-Reader, 21.5 LCD Strip Screen, Stretched LCD Bar Display
Hot Tags: 28" AUOP280IVN01.1 high brightness Stretched LCD Bar , manufacturers, suppliers, factory, Customized