General Description

RisingLCD RS750ENT-N50 is a 75 inch outdoor window facing display that adopts BOE industrial grade OC, with 3840*2160 ultra high resolution, and 16:9 aspect ration, 1200:1 contrast ratio, its brightness can achieve 5000nits after RisingLCD re design the LED back light, -30 ~ 80 °C wide operating temperature that is ideal for industries such as gaming, medical, military/defense, retail, automation/industrial, and transportation.
Main Features:
BOE original Industrial LCD panel
Ultra High resolution: 3840*2160
Brightness up to 5000 nits
Wide operating temperature: -30 ~ 80 °C
Blackening Defect free
AR Glass, reduce reflectioin effect.
Built-in Auto Light sensor
Interface: HDMI(2)/DP/DVI-D/RJ45/RS232C/USB
Industrial operating temperature range, this outdoor window facing display can operate in a stable and failure-free way for a long period within wide range of tepmerature -30 ~ 80 °C, thanks to such option, it maybe successfully applied in transportation and automotive industry. Most residential and commercial display will blacken or result in isotropic failure with the display overheats for a long period, RS650ENT-N30 industrial window facing display is equipped with a high-temperature BOE LCD panel ( DV750QUB-R01) that can withstand the themperatures up to 110˚C (230°F) without blackening – crucial for direct sunlight applications.
Outstanding visibility,
Billiant and bright, the industrial outdoor window facing series process powerful brightness of 3000nits, message remain clear and bright even in the outdoor direct sunlight in a store front and along with the extra wide 178° viewing angle is a perfect fit for shoppers, store, employees or visitors that will view Window Facing displays from diverse angles while passing by.
4K Ultra HD
With 4K 3840*2160 ultra high resolution, RisingLCD RS750ENT-N50 window facing diisplay can offer the 4K Ultra HD picture that ensures perfect colour and rich details in all possible broadcasting surroundings, ranging from shops, to restaurants and office buildings.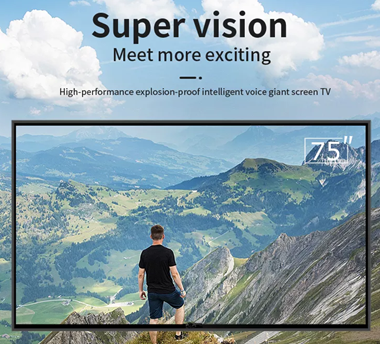 Auto brightness control
Different external lighting condition requires different brightness leverls, an onboard light sensor that built-in our outdoor window facing display measures the ambient light in the area and automatically adjust the image light accordkingly, offer a best experience to the viewer, and also can save the engery cost, reduce the heat and extends the life of the screen.
This industrial outdoor window facing displays series are optimized for customers with its VESA mounting holes and customized with different brightness to meet differents business needs, from indoor 500 nits to outdoor 3000nits. And based on the industry and application, this industrial outdoor window facing display can mount to wall, hang to celling or floor standing)
Hot Tags: 75 inch BOE UHD industrial outdoor window facing display with 5000nits high brightness, manufacturers, suppliers, factory, Customized