RisingLCD 75 inch window facing display adopts LG LC750EGY-SKM1 a+ grade TFT screen and with RisingLCD customized led backlight which increase the brightness to 4000nits, and combined with the UHD 3840 *2160 high resolution, great constrat Contrast Ratio 1100:1, this series is widely used as the advertising window facing display for shop, retail, store, restaurant, bank and shipping mall.
75 inch window facing display UHD 4000nits high brightness Main features:
High brightness: 4000nits,
Screen Type: LCM a-Si TFT-LCD
Display size: 75 inch (all sizes optional from 21.5 inch to 86 inch)
Wide Viewing Angle (H x V) 178 x 178
Web Monitor control, Android or Window system is optional
Constrast: 1100:1
Auto brightness control
With Android system, and built-in Wifi
Window facing display, double-sided is optional
Application: Advertising publish, retail store, shopping mall
All, bus station.
And with the customized 4000nits brightness and wide view angle 178*178, this our high brightness window facing display can boasts high visiblilty even in a bright environment, can develiry the information and let the contents are readable even to those wearing polarized sunglasses.
And with built-in light sensor, this UHD screen brightness can automitically adjusts according to the surrounding light, save energy, reduce cost and extend the display life.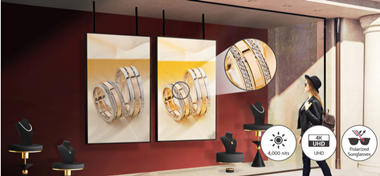 Our display is optional with android RK3288 Quad core Cortex-A17 + GPU Mail-t764,and built-in wifi, 4g(optional), feature with free contents management software, it supports to targets its display content to the final customers via lan network, it allows the users to monitor the unit, make any update and control it remotely in real time.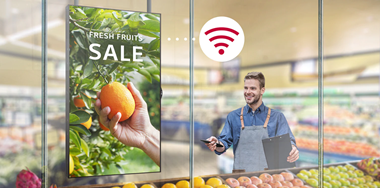 RisingLCD manufactures widest variety of ultra-high brightness displayin the industry, size from 32 inch to 86 inch, and brightness level from 2500 to 5500nits.
OEM and ODM are welcomed!
RisingLCD is a professional highlight LCD manufacturer from China, specializes in manufacturing and distributing all types of LCD module, LCD monitors, outdoor and indoor digital signage and goods are exported all of the world, could customize the products based on the customer needs with a competitive price, RisingLCD is your best choice!
Hot Tags: 75 inch window facing display UHD 4000nits high brightness, LG 75XS4G , manufacturers, suppliers, factory, Customized