RisingLCD outdoor high brightness LCD panel adopts independent development on the structure, modeules and parts, long term supply, and can match LCD glass from different suppliers, such as BOE, AUO, LG, Samsunt,etc.
RisingLCD RS156ENT-N12 is a 15.6inch 1200nits LCD panel that is equipped with BOE original screen, support a 1920*1080 screen formati with LVDS interface, Wide viewing angles--L/R : 85˚/85˚, U/D : 85˚/85˚ (Typ.), Treated with anti-glare surface treatment to improve outdoor capabilities and sunlight readability.
15.6 inch 1200nits high brightness LCD Panel Main feature
1. BOE original Industrial LCD panel
2.1200 nits high brightness
3.Reserved automatic dimming system interface, automatically adjust LCD screen brightness according to outdoor brightness
4 Adopt imported LED lamp which is low power, high luminous efficiency, and low power consumption.
5.Wide operating temperature: -40 ~ 80 °C
1200nits high brightness LCD panel
With the feature of 1200nits high brightness, this LCD panel can be sunligh readable under directly sunlight, and along with the extra wide viewing angle is a perfect fit for shoppers, store, employees or visitors that will view Window Facing displays from diverse angles while passing by.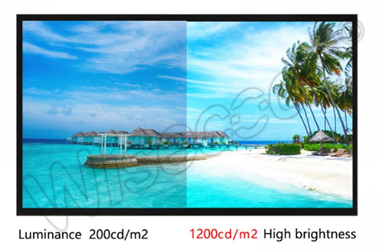 Automatic dimming system built in 15.6 inch LCD panel
Different external lighting condition requires different brightness leverls, an onboard light sensor that built-in our outdoor LCD panel measures the ambient light in the area and automatically adjust the image light accordkingly, offer a best experience to the viewer, and also can save the engery cost, reduce the heat and extends the life of the screen
15.6 inch high brightness is designed with Wide temperature,
It is designed with wide temperature support to ensure operation reliability in extreme temperatures ranging from : -40 ~ 80 °C, suitable for applications in industry, military, Aerospace, and transportation fileds where conditions are often more extreme.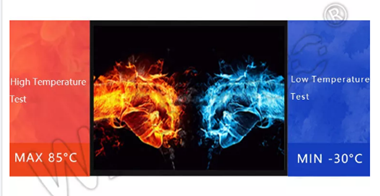 RisngLCD RS156ENT-N12 utilizes advanced anti-reflection technology. This innovative solution ensures much better visibility when watching in broad daylight, with a significantly low total reflection rate, ensuring clearer images and text for every viewer.
RisingLCD is a high-tech enterprise specilized in the research and development of outdoor high brightness LCD modules, with many years experience in the design and manufacturing and sales, we can offer you 10.1inch to 100inch LCD panel with brightness of 500nits to 5000nits according to the customers requests. OEM/ODM are all welcomed!
Hot Tags: 15.6 inch 1200 nits high brightness LCD panel, manufacturers, suppliers, factory, Customized