RisingLCD high brightness window facing display are available size from 43 inch to 75inch, and it is designed for shopfront window. They are equipped with a commercial grade LCD panel and RisingLCD customized LED backlight, the high brightness can achieve 3500nits that up to around 10 times brighter than a domestic television. And have the ability to constant use 24/7 for over 50,000hours.
46inch high brightness window facing LCD display Main features
1.Full viewing angles,
Thanks to using a matrix with IPS/MVA technology, our high brightness display is readable from any angle. There is no gray scale inversion effect which is a normal feature of popular TN matrixes. A decrease in contrast when increasing the viewing angle is also significantly lower. Superior image quality and color depth at 178 degree ultra-wide portrait orientations. It does not produce image distortion and minimizes color shift when viewed from different angles, it provides clear images and instantly optimizes screen color and brightness.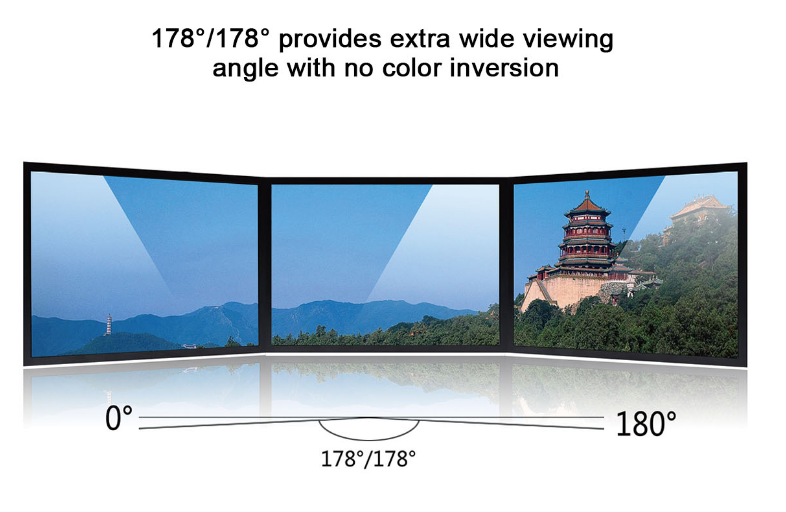 2. Outstanding visibility high brightness
With a great brightness of 3500nits, our window facing display are well equipped to make the contents and images vividly stand out in any commercial location, you can experience superior pictures quality and optimized visibility.
3. Smart brightness control
The built-in auto-brightness sensor adjusts backlight brightness according to the surrounding brightness to save power energy and protect your eyes.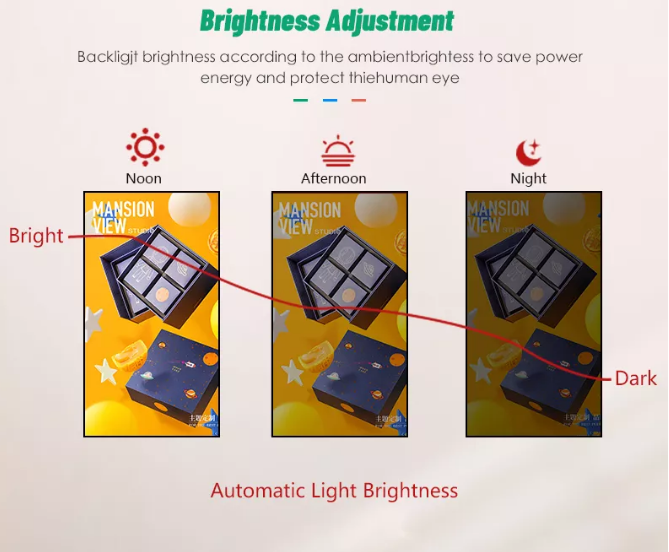 4.Blackening Defect Free

Most residential and commercial LCD panel exposed to directly sunlight will blacken or result in isotropic failure. RisingLCD high brightness window facing displays are equipped with a high-temperature LCD panel capable of withstanding temperatures up to 110˚C (230°F) without blackening – crucial for direct sunlight applications.
5. Plug and play
Plug and play, plug you USB stick that have loaded images and videos into our high brightness window facing display, just only wait for your content copy over, then it can play automically.
6. Protective glass
Our high brightness window facing is covered with he tempered and laminated front glass that ensures optimum protection from outdoor extremities, resulting in minimal to no damage form extrenal impacts.
7. Android media player
For this high brightness window facing display, we also offer cloud basis network CMS if required, and you can run the third-party digital signage software on our android platform too
This 46inch high brightness LCD display support the various installation ways, floor stand, wall mounted, hanging to celling, you can choose as your like. landscape and portrain are also available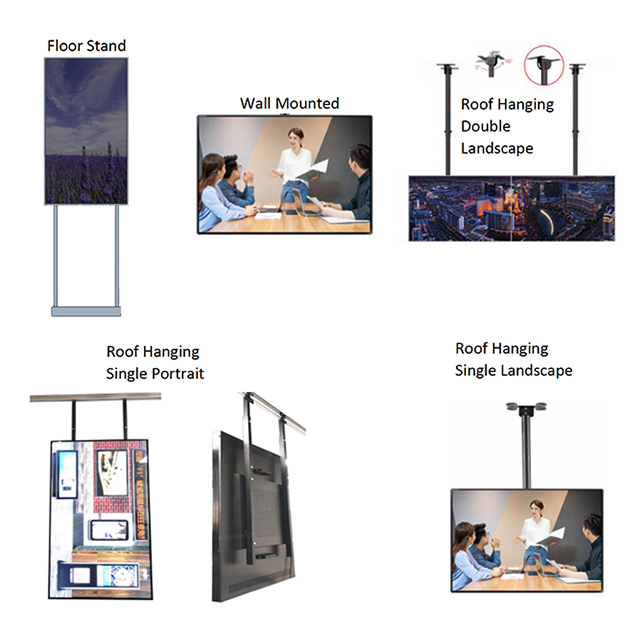 OEM and ODM are welcomed!
RisingLCD is a professional highlight LCD manufacturer from China, specializes in manufacturing and distributing all types of LCD module, LCD monitors, open frame monitor, outdoor and indoor digital signage and goods are exported all of the world, could customize the products based on the customer needs with a competitive price, RisingLCD is your best choice!
Hot Tags: 46inch high brightness window facing LCD display with 3500nits brightness, manufacturers, suppliers, factory, Customized