General Description
RisingLCD RS650ENT-N30 is with an ultra HD 4k IPS 65inch BOE industrial lcd panel, high resolution 3840(RGB)×2160 (UHD) 51PPI, and 16:9 aspect ration, the high bright LED backlight display provides over 3000nits of high brightness, and 1200:1 constrast ratio and Transmissivity 5.1%, all that of features that making the LCD panel sunlight readable, it is ideal for the outdoor application.
Main Features:
BOE original LCD panel
High resolution: 3840*2160
Brightness up to 3000 nits
Auto brightness control
Wide industrial working temperature
Almuinum alloy structure easy heat dissipation
24/7 working time
Auto brightness control
Different external lighting condition requires different brightness leverls, an onboard light sensor was built-in our industrial hight brightness panel that measures the ambient light in the area and automatically adjust the image light accordkingly, offer a best experience to the viewer, and also can save the engery cost, reduce the heat and extends the life of the screen.
Wide industrial working temperature
Most residential and commercial screens will blacken or result in isotropic failure when the LCD panel overheats. This industrial high brightness LCD panel display is equipped with a high-temperature LCD screen capable of withstanding temperatures up to 110˚C (230°F) without blackening – crucial for direct sunlight applications.
Almuinum alloy structure
We use almuinum alloy structure that is high thermal conductivity to maximize heat transfer, reduces the overall operation temperature, it is ideal to use in a higher environment, the heat dissipation is four times that of the ordinary metal structure.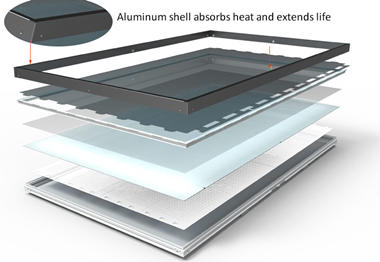 Application:
Outdoor digital signage, Industrial Public transporation, Large Shop Windows, Car Dealerships, Wedding Shops, Hotels, Tourism, entire retail and hospitality industry
Hot Tags: 65 inch industrial high brightness LCD panel , manufacturers, suppliers, factory, Customized