RS101ENT-N07 is a 10.1 inch touch open-frame monitor that customized based on the BOE original A+ panel (COG-PVLSZT034-01 ), that feature 1920*1080 HD resolution, 700nits brightness, 1000:1 contrast ratio, and 85/85/85/85 wide viewing angle, -30 ~ 85 °C industrial operating temperature and adopts OCA bonded technology and and plug and play solution, slim and light design, that make our open frame monitor is easily to be integrated into (or replacing your existing defective LCD monitor) kiosks, gaming and security touch monitor, no technical skills requires
Open Frame industrial monitor Key Feature:
1. Industrial operation temperature range
2. Auto Brightness Control
3. Adopts OCA bonding technology,
4. Multi touch projected capacitive sensor
5. Built with WIFI and Ethernet(lan) internet connection
6. Outer frame can be customized,
7. VESA Mount: 100mmx100mm or 75mmx75mm Support for personalized installation
Wide Industrial operation temperature range
With a -30 ~ 85 °C wide industrial operation temperature, this open frame touch monitor can operate in a stable and failure-free way for a long period within wide range of temperatures,that is a cost-effective for OEMs and systems integrators, it is be successfully applied, e.g in transportation and automotive industry.
Auto Brightness Control
This open frame touch monitor brightness is automatically adjusted depending on the ambient light, the brightness is increased in light for better visibility and while it is decreased in darkness for efficient power management, saving emergy and let our open frame display have a long life.
With OCA bonded Touch screen
OCA is a key component in advanced monitor, touch screen, t ouch panel, that can improve contrast ratio and optical clarity while reducing the amount of reflected light, with OCA bonded touch monitor, it can improves touch screen's viewability and readability.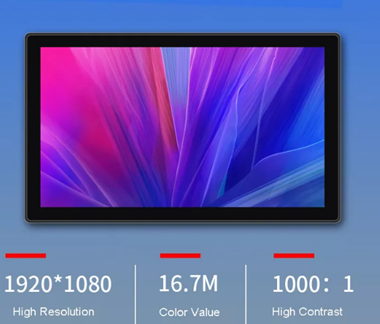 Multi touch projected capacitive sensor
10.1inch open frame monitor is with PCAP touch screen, that not easy to touch by mistake, precise positioning, high light transmittance and clarity, lets you take advantage of touch features and navigate web pages, flick through photos, paint and play games - all with your finger tips, that is suitable for various commercial and industrial environments,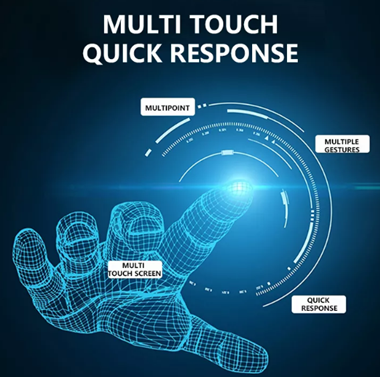 Built-in WiFi and Bluetooth
Our open frame screen support to connect wirelessly to various devices such as keyboard, speaker, mouse, other electronic applicance, it interactive services as well as simplifying how businesses showcase content. Whether it's to make networking simpler or enabling interactive beacon technology in-store, open frame screen help businesses move into the future of retail.
OEM and ODM are welcomed!
RisingLCD is a professional highlight LCD manufacturer from China, specializes in manufacturing and distributing all types of LCD module, LCD monitors, open frame monitor, outdoor and indoor digital signage and goods are exported all of the world, could customize the products based on the customer needs with a competitive price, RisingLCD is your best choice!
Hot Tags: RisingLCD Open Frame industrial monitor with touch screen 10.1 inch, manufacturers, suppliers, factory, Customized