RS185ENT-N10 is a true sunlight readable LCD panel 1000nits high brightness 18.5 inch diagonal 1366(RGB)×768 [WXGA] resolution, TFT LG flat panels. It is suitable for outdoor tablet advertising use.
The sunlight readable LG LCD panel offered by RisingLCD is built with the following benefits:
1. LG Branded IPS LCD panels with perfect image quality and wide viewing angles
2. Wide operation temperature range
3. RisingLCD ELED backlight, brightness up to 1000 nits, adopt imported LED lamp which is low power, high luminous efficiency, and low power consumption.
4. Blackening Defect free
IPS/MVA Technology
Thanks to using a matrix with IPS/MVA technology (or variants), our RS185ENT-N10 LCD panel is readable from any angle. There is no gray scale inversion effect which is a normal feature of popular TN matrixes. A decrease in contrast when increasing the viewing angle is also significantly lower.
LG original sunlight readable IPS LCD Panel with Wide operation temperatue feature,
The screen can operate at temperatures as low as 0℃ and as high as 40℃, making it suitable for virtually any storefront.

RS185ENT-N10 sunlight readable LG LCD Panel is with Auto brightness control

Different external lighting condition requires different brightness leverls, an onboard light sensor that built-in LCD panel measures the ambient light in the area and automatically adjust the image light accordkingly, offer a best experience to the viewer, and also can save the engery cost, reduce the heat and extends the life of the screen.
1000nits Sunlight readable LCD panel
With the feature of 1000nits high brightness, clear resolution and rich depth, the LCD panel display could let you see a vivid world, this panel could make you see the real image even under the sun, it gives you a comfortable visual experience no matter what you are dong at any time.
Thanks to their special sunlight readable LCD panels technology, these displays can withstand surface temperatures up to 110oC without suffering from any blackening defect. This is crucial for outward-facing window displays, which must contend with exposure to direct sunlight.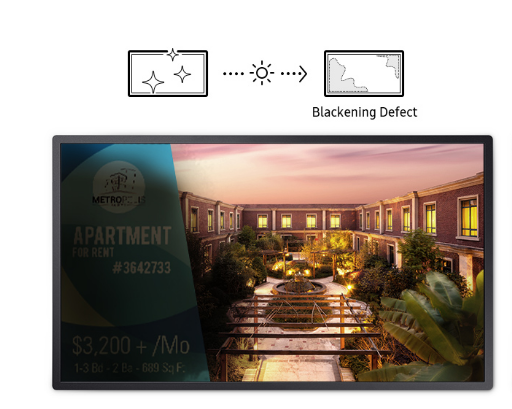 RisingLCD is a high-tech enterprise specilized in the research and development of outdoor high brightness LCD modules, with many years experience in the design and manufacturing and sales, we can offer you 10.1inch to 100inch LCD panel with brightness of 500nits to 5000nits according to the customers requests. OEM/ODM are all welcomed!
Hot Tags: 18.5 inch 1000nits sunlight readable LG LCD Panel, manufacturers, suppliers, factory, Customized