General Description:
RisingLCD 65 inch larger size LCD monitor is with the original BOE 4K resolution 3840(RGB)*2160(UHD) screen DV650QUM-N00, and this screen is equipped with a direct-light source LED backlight, brightness 500-4000cd/m² and contrast ratio of 1200:1, it is widely used in public place, park, super market, government building.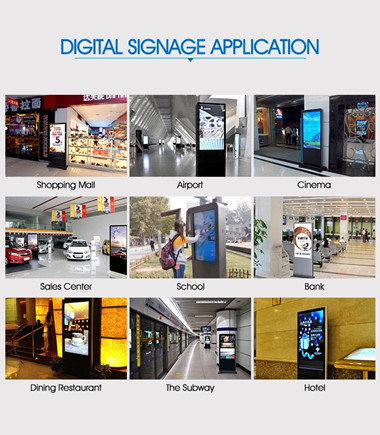 DV650QUM-N00 LCD monitor is readable under direct sunlight application, which delivering a clear and attractive contents for viewers no matter where they are.
3500nits high brightness
Image's high brightness is a highly desired feature in a strong sunlight situation, thanks to this attribute, our displayed contents is fully readable, displays with high brightness may be successfully used e.g in expositions, buses station, digital signage or other outdoor application.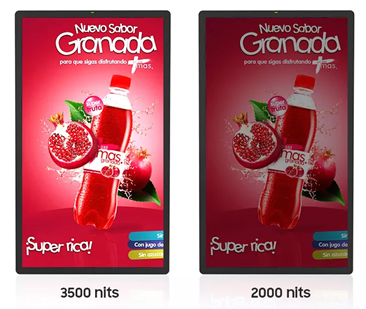 Smart Brightness Control,
Our high brightness window facing LCD display is built in a auto brightness sensor, that make the LCD display brightness is automatically adjusted depending on the ambient light, the brightness is increased in light for better visibility, while it is decreased in darkness for efficient power management, it saves energy and ehcance the LED back light life time also.
OEM and ODM are welcomed!
RisingLCD Advantage:
OEM/ODM is acceptable!
Small MOQ is acceptable!
Competitive price!
Fast Delivery time!
RisingLCD is your best choice!
Hot Tags: sunlight screen 3500 nits lcd panel, China, factory, cheap, price, customized, quotation, window facing LCD, 3000 cd/m² LCD Display, 43 Charging Pile LCD Advertising Player, 65 Inches Highlight LCD, 1000 cd/m²s LCD Screen, 82 LCD E-Reader, 21.5 LCD Strip Screen, larger size

Hot Tags: 65 inch Larger size outside LCD monitor DV650QUM-N00 , manufacturers, suppliers, factory, Customized