RisingLCD 32 inch High Tni open frame sunlight readable tft LCD, is equipped with BOE industrial high tni screen, 1920*1080 resolution, 16:9 aspect ratio, 1000:1 contrast ratio, and with our customized brightness, 2500-nit, this display can be read even in the direct sunlight.
Open frame, slim thickness 87.3mm
1. Thin profile: The open-frame design allows the display to have a thin profile, which makes it suitable for applications where space is limited.
2. Easy integration: The open-frame design makes it easy to integrate the display into different types of products.
3. Cost-effective: Open-frame displays are often more cost-effective than other types of displays because they do not have an additional enclosure.
4. Customizable: Open-frame displays can be customized to meet specific application requirements, such as size, resolution, and brightness.
5. Versatile: They are suitable for a wide range of applications, including gaming machines, industrial equipment, medical devices, and transportation systems.
Sunlight readable
2500 nits, high brightness ensures that the screen remains visible even in direct sunlight, making it easy for people to read important information and messages.
High Tni Industrial -grade.

Application of High TNI LC technology is a matter of great importance for displays operating in strong sunlight conditions. Long-term exposure to strong sunlight is associated with excessive heating of display's surface (even up to 100oC). When classic LCD display operates in such conditions, there occur black spots on matrix. Thanks to High Tni LC technology, this problem is eliminated. The 32 inch open frame customized digital display screen are combined with high Tni 110°C industrial grade OC, the HD series can operate 24/7
Application
This sunlight readable open frame tft lcd displays are ideal for outdoor digital signage, transportation displays, and other applications where high visibility is essential.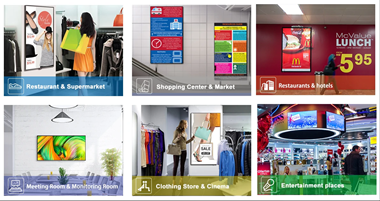 Hot Tags: 32 inch High Tni open frame sunlight readable tft LCD, manufacturers, suppliers, factory, Customized