RisingLCD high brightness window facing display series are manufactured specifically to perform in brightly lit environments, even in a direct sunlight. They are ideally suited to a number of applications that including bus shelf, train station, airports,retail store window and public space.
The industrial grade high brightness display is designed for 24/7 usage, offering high contrast, excellent colour reproduction with a backlight producing a high brightness display of 350nits - 5000 nits.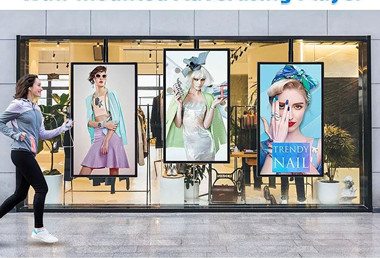 55 inch ultra high brightness window facing display
Functional characteristics
1.HD display: LCD panel of industrial grade, brand-new A-gauge panel.
2.Bright color: Full view display, up and down about 178 degrees without distortion.
3.Simple design: ultra-thin LCD advertising machine shell with temp
ered glass protection, so that the LCD screen is not damaged,
4. Smart brightness control
5. Blackening Defect Free
6.Customization: The production line is fully managed by ISO 9001 advanced scheme, and can customize shell shape, fuselage color, and silk LOGO according to customer requirements.
Outstanding visibility ultra high brightness
With a great brightness of 5000nits, this outdoor LCD display are well equipped to make the contents and images vividly stand out in any commercial location, you can experience superior pictures quality and optimized visibility.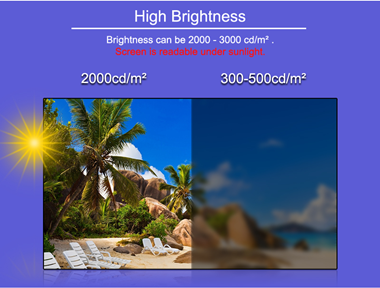 Smart brightness control
The built-in auto-brightness sensor adjusts backlight brightness according to the surrounding brightness to save power energy and protect your eyes.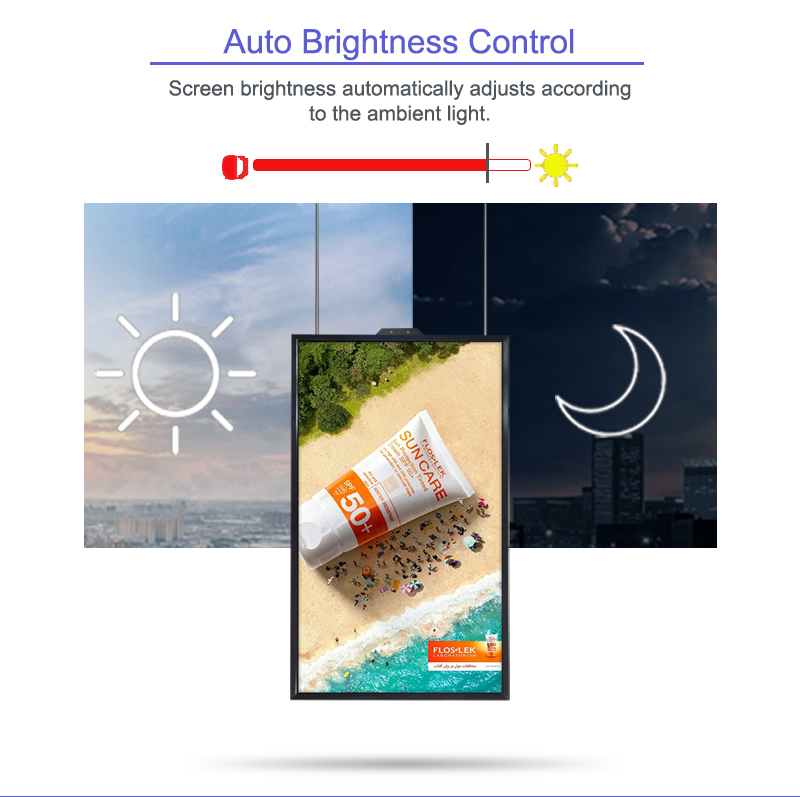 Blackening Defect Free
Most residential and commercial screens will blacken or result in isotropic failure when the LCD panel overheats. Our outdoor sunlight readable digital signage LCD display is equipped with a high-temperature LCD panel capable of withstanding temperatures up to 110˚C (230°F) without blackening – crucial for direct sunlight applications.
Hot Tags: 55 inch ultra high brightness window facing display for advertising, manufacturers, suppliers, factory, Customized