RisingLCD high brightness wall mounted window facing LCD display is along with 4K ultra-HD resolution, it can easily engage and influence your audience, delivers your message with eye-catching detail at every angles. With thin and slim metal frame, this display can be installed in a variety of locations according to your business needs. You can set it up in a bus station, hospitality, mall or business setting, it is ideal promotional solution for any business in need of maximizing your produdt and services in the potential market.
Available size from 32 inch, 43 inch, 49 inch, 55 inch, 65 inch, 75 inch, 86 inch, 98inch, 108inch
Available Brightness 1500 nits, 2000nits, 2500nits, 3000nits, 3500nits, 4000nits, 4500nits, 5000nits, 5500nits.
Installation way: Wall mounted, floor standing,
75 inch high brightness wall mounted window facing LCD display Main Features:
1.Metal thin and slim design
The 55mm thin depth make it takes up less space that leads to space efficiency in an in-window environment.
2.Fan-less Design
Fan-less Design make it be a ideal choice to use in a wall mounted in-window environment, the operating noise level is under 25dB that is quieter than that of people's deaily conversation.
3. Bigger size, bigger impact
High brightness, bigger size will create a huge impact to the passby people, grab your audience's attention to gain more business and improve your products brands.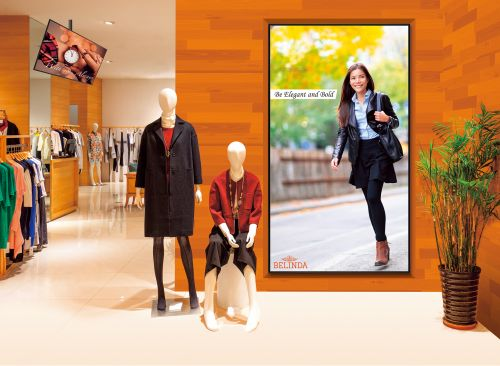 4. 4000nits high Brightness
- With a great brightness of 4000 nits, our wall mounted window facing display clearly delivers contents and attracts public attention, which is the ultimate display for outdoor visibility.
5. Smart Brightness Control
- The screen brightness is automatically adjusted depending on the ambient light. The brightness is increased in light for better visibility, while it is decreased in darkness for efficient power management.
Hot Tags: 75 inch high brightness wall mounted window facing LCD display, manufacturers, suppliers, factory, Customized