UHD 32 inch high brightness window facing digital Display, 3500 cd/m² G320ZAN01.0
RS320ENT-ND35 is a 32 inch high brighness window facing display that is equipped with AUO screen model G320ZAN01.0 that characterizes with a UHD high brightness of 3500 cd/m², a great resolution 3480(RGB)*2160 (UHD), and work life can achieve above 50000 hours
32 inch high brightness window facing Display use the Hi TNI technology that keeps the liquid crystals in the display themselves from changing the state of their aggregation under the affect of the sunlight and tempeatures, and keep the information on the display can be read in any light condition.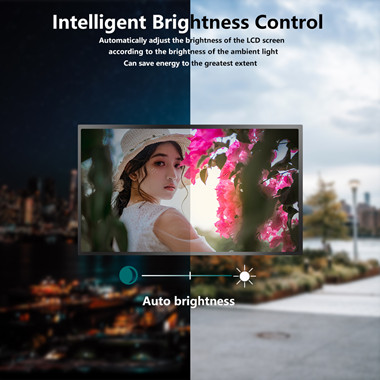 the hight brighness 3500cd/m² make the content on the panel are more vividly and well recognized in any commerical location, even in the direct sunlight.
The great resolution 3480(RGB)*2160 (UHD) and wide viewing angle window-facing display, the extra wide 178 degree angle and 4k resolution are easily to draw the shoppers or visitors to view the widnow facing display from different angles while they pass by, and lead them into the store to shop.
this window facing display use the industrial screen, that make it have long working life, it can working 7/24 and achieve 50000 hours.
Single screen or double screen are optional
OEM and ODM are welcomed!
RisingLCD Advantage:
OEM/ODM is acceptable!
Small MOQ is acceptable!
Competitive price!
Fast Delivery time!
RisingLCD is your best choice!
Hot Tags: UHD 32 inch high brightness window facing digital Display, manufacturers, suppliers, factory, Customized