RisingLCD RS550ENT-ND30 is a high bright LCD display, withindow-facing display, size 55inch, brightness is 3000 cd/m², that display is equiped with AUO original screen model P550HVN06.4, that characterizes with a great resolution 1920*1080 (FHD) and 4000:1 constrast ratio, the highlight display is applied to window facing display, Digital Signage, Interactive Whiteboard etc.

55inch FHD high brightness LCD TFT display Main features
1.IPS TFT panel technology
Superior image quality and color depth at 178' ultra-wide portrait orientations. It does not produce image distortion and minimizes color shift when viewed from different angles, it provides clear images and instantly optimizes screen color and brightness.
2.2K ( FHD) High resolution
The 2K Full HD pictures quality ensures perfect colour and rich detailes in all possible broadcasting surroundings, ranging from shops to restaurants and office buildings, that bring your clear and color ful visual enjoyment
3. Outstanding visibility high brightness
With a great brightness of 3000nits, our window facing display are well equipped to make the contents and images vividly stand out in any commercial location, you can experience superior pictures quality and optimized visibility.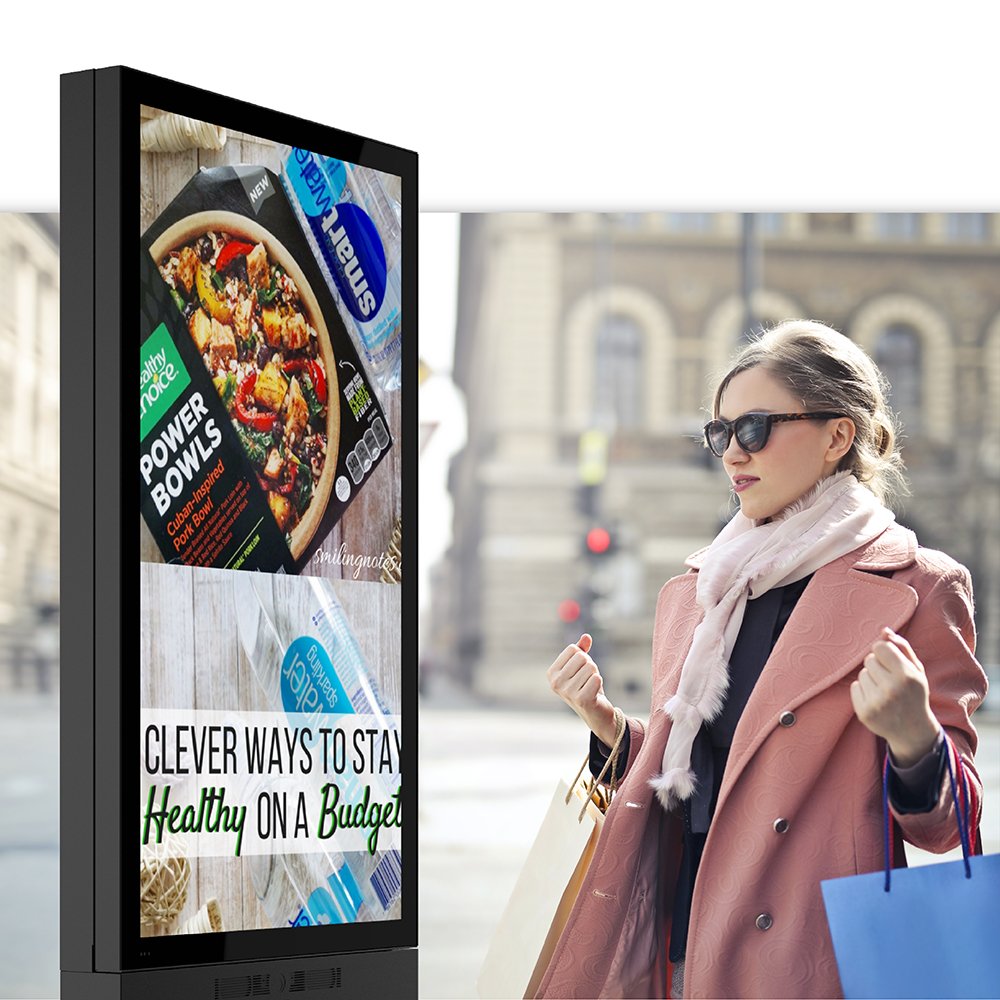 4. LED back light
RisingLCD customized LED back light improves brightness and contrast as well as improving their lifespan and reducing their power consumption.
5. Smart brightness control
The built-in auto-brightness sensor adjusts backlight brightness according to the surrounding brightness to save power energy and protect your eyes.
6. Plug and play
Plug and play, plug you USB stick that have loaded images and videos into this display, then just only wait for your content copy over, and it can play automically.
7. Protective glass
The tempered and laminated fron glass ensures optimum protection from outdoor extremities, resulting in minimal to no damage form extrenal impacts.
8. Android media player
We also offer cloud basis network CMS if required, and you can run the third-party digital signage software on our android platform too
9. 24/7 usage
This is a true commercial -grade solution, built using a commercial-grade LCD panel and components, it is designed to be in constant use, which is esssential for some locations.
This 55inch high brightness LCD TFT display support the hanging installation, save your space and stay away from crowing, landscape and portrain are available
OEM and ODM are welcomed!
RisingLCD is a professional highlight LCD manufacturer from China, specializes in manufacturing and distributing all types of LCD module, LCD monitors, open frame monitor, outdoor and indoor digital signage and goods are exported all of the world, could customize the products based on the customer needs with a competitive price, RisingLCD is your best choice!
Hot Tags: 55inch FHD high brightness LCD TFT display with 3000nits brightness, manufacturers, suppliers, factory, Customized