Outdoor has always been a blank field of LCD products. Now LED is the mainstream tool of outdoor media, but the clarity of outdoor LED is not enough to meet the viewing experience of close scenes. So we have developed a model that can perfectly realize the goal of watching TV outdoors. So what are the advantages and disadvantages of the new outdoor ultra-thin outdoor display? We summarize the following points
1, the advantages of the first ultra-thin maintenance-free, hd chromatic aberration
The outdoor LCD screen adopts the Japanese thermal glue front bonding technology, the screen LCD panel and the protective glass are sealed by thermal silica gel, to achieve the work requirements of overheating without black screen, undercooling without power, perfect to adapt to all kinds of high temperature, low temperature and other harsh environment outdoors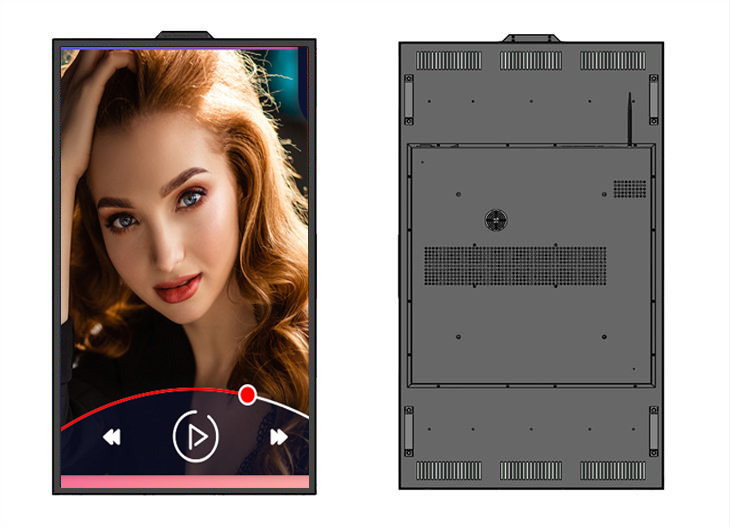 2: all aluminum structure back heat sink ultra-thin structure
Outdoor LCD all-in-one machine is made of aluminum material, with a reinforced radiator on the back. A piece of aluminum material is made by CNC technology, with fully sealed space and IP66 waterproof grade, which can cope with extreme weather such as outdoor rain and snow. The outdoor LCD all-in-one machine adopts an integrated structure with a thickness of only 10cm. Not only the waterproof performance is greatly improved, but also the appearance is more thin and good-looking.
3: low power consumption, energy saving and environmental protection
Outdoor ultra-thin all-in-one machine, because there is no temperature control fan and other complex electronic system, not only the function of the fault is lower, and the power consumption is only half of the general outdoor advertising machine, 2500 brightness outdoor LCD all-in-one machine power consumption is only about 200W, can greatly improve the loss caused by power, the harm to the environment pollution can be greatly reduced.