RisingStar high brightness,outdoor LCD displays are designed for outdoor digital signage installation where are usually in harsh outdoor weather condition. Installation sites include public transportation in bus station and train stations, quick service restaurants, public spaces and building entrances,and other areas where waterproof screens are requires.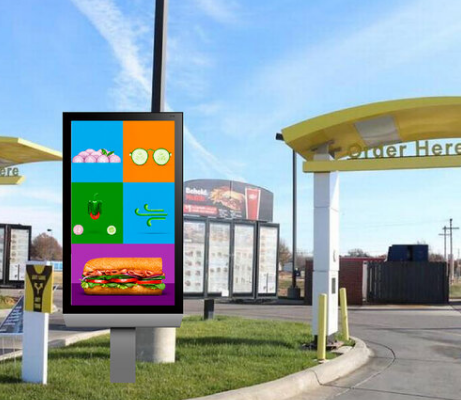 43 inch outdoor IP65 monitor Main features:
Ultra high brightness panel of 4000 nits (sunlight readable)
Advanced smart temperature control system
Toughened glass
Sturdy enclosure & vandal proof
Plug and play
Anti-reflective glass
External ports to attach devices
Dust Tight
Weather proof
Free Lockable wall mount
light sensor
RisingStar LCD outdoor video monitor display are available as wall mount monitor and floor mount kiosk, the standard range of the sizes are 32 inch, 43 inch, 49 inch, 55 inch, 65 inch, 75 inch, all of these models feature wide viewing angles, that make them suitable for portrait and landscape orientation
Risingstar outdoor monitor design for 24/7 operation in harsh outdoor weather conditions, construction in lightweight aluminum or rugged steel, tempered glass and low profile controls to protect the display from import shock and vibration damage.
Hot Tags: 43 inch outdoor IP65 waterproof LCD monitor with 4000 nits high brightness, manufacturers, suppliers, factory, Customized