49 Inch window facing display with 5000nitshigh brightness
RisingLCD 49 inch high brightness wall mounted display adopts LG original+ grade TFT screen and with RisingLCD customized led backlight which increase the brightness to 5000nits, it is designed to be installed in cabinets or shop windows, bus station for outdoor applications.
.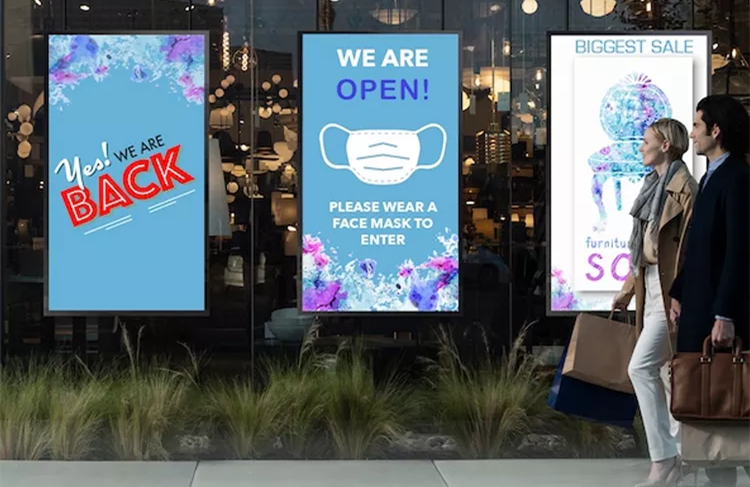 Main features:
High brightness: 5000nits,
Screen Type: LCM a-Si TFT-LCD
Display size: 49 inch (all sizes optional from 21.5 inch to 86 inch)
Wide Viewing Angle (H x V) 178 x 178
Web Monitor control, Android or Window system is optional
Contrast: 1100:1
Auto brightness control
With Android system, and built-in Wifi
Blackening defect free – IPS LCD panels can withstand temperatures up to 110°C (230°F)!

Application: Advertising publish, retail store, shopping mall , All, bus station.
Low power consumption
Full HD 1080p resolution – resolution of 1920 x 1080 full HD provides a super sharp image for easy-to-read text and incredible detail
Automatic Brightness Control – onboard light sensor measures the ambient light in the area and automatically adjusts the image accordingly
24/7 Operation – worry-free round-the-clock operation
Variety of sizes and styles – full range from 21.5″ to 86″ in standard and narrow bezels
And with the customized 5000nits brightness and wide view angle 178*178, our high brightness window facing display can boasts high visibility even in a bright environment, can delivery the information and let the contents are readable even to those wearing polarized sunglasses.
And screen brightness can automatically adjusts according to the surrounding light, save energy, reduce cost and extend the display life.
Hot Tags: 49 inch window facing display with 5000nits high brightness, manufacturers, suppliers, factory, Customized